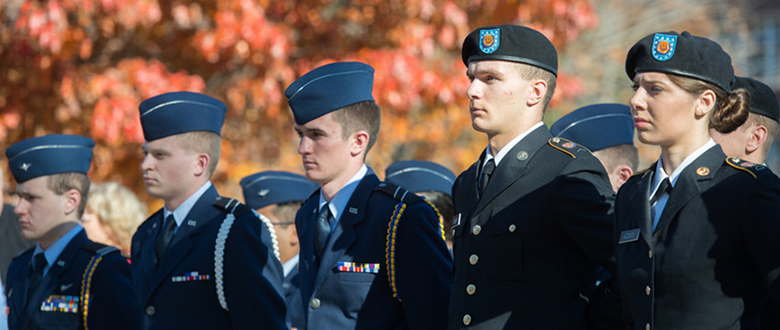 Syracuse University is committed to supporting those who have served our country. If you are a veteran, Syracuse University's Veterans Resource Center will assist you with Veterans Affairs (VA) and provide a welcoming space for you and your family on campus.
Please visit the Veterans Resource Center to utilize your veterans benefits and get the documentation you'll need to begin the certification Process.  It is important that you report your status as a veteran to the Financial Aid Office as federal, state and institution financial aid is coordinated through the Financial Aid Office, in conjunction with information received from the Veteran Resource Center.
All veteran awards must be considered when determining university need-based grant funds and tuition-specific awards.
Managing Your Application
After you've applied for admission, you'll receive instructions for accessing MySlice, your secure virtual gateway to life at Syracuse. Your MySlice Financial Aid To Do List will house your financial aid application requirements.
Begin the federal aid application process by following the instructions on your To Do List. Your official notice of aid will also be viewable on MySlice.
Application Requirements
CSS/Financial Aid PROFILE (undergraduates wishing to apply for Syracuse University Grant)
Certificate of Eligibility, found on your MySlice Financial Aid To Do List
Request for Veterans Benefits, found on your MySlice Financial Aid To Do List
Merit-based scholarships are awarded to undergraduate students at the time of admission to recognize prior academic achievement; no separate application is required.
Funds are limited, so it is important that you meet financial aid filing deadlines. Late applications may be awarded on a funds-available basis.
Read How Your Veterans Educational Benefit May Affect Your Financial Aid
If you file your financial aid applications before you know the amount of your actual veterans educational benefits, you will receive an estimated financial aid award based on noneligibility for VA funding.
Once notification of your actual veteran's benefits is received, your financial aid award may be recalculated. Veterans benefits do not affect federal financial aid but they may change state and institutional aid eligibility, as well as private/alternative loans. You will be notified of any changes to your award via email.
If you are a Syracuse University merit scholarship recipient, this scholarship may be combined with other tuition-based awards, such as your veterans benefits or state grants–but cannot exceed the cost of tuition. In addition, if you are receiving Syracuse University need-based grant, scholarship, or private/alternative loan, your total financial aid package cannot exceed the Cost of Attendance.
The chart below illustrates how an aid package may change once the University is notified of veterans benefit eligibility.
100% Yellow Ribbon Veterans Awards and Changes – Undergraduate Student
Original Award
Veterans Award
Cost of Attendance*
$61,242
Cost of Attendance*
$61,242
Federal Pell Grant
$5,775
Federal Pell Grant
$5,775
Federal SEOG
$1,000
Federal SEOG
$1,000
Federal Work-Study
$3,200
Federal Work-Study
$3,200
Federal Direct Subsidized Loan
$5,500
Federal Direct Subsidized Loan
$5,500
Federal Direct Unsubsidized Loan
$7,000
Federal Direct Unsubsidized Loan
$7,000
Syracuse University Grant
$18,800
Syracuse University Grant
$0
Phi Theta Kappa Scholarship
$2,000
Phi Theta Kappa Scholarship
$0
Veterans Post 9/11 Tuition Grant
$0
Veterans Post 9/11 Tuition Grant
$30,818
SU Grant Yellow Ribbon Match
$0
SU Grant Yellow Ribbon Match
$12,500
Total Aid
$43,275
Total Aid
$65,793
*Based on 2015-2016 tuition of $41,794