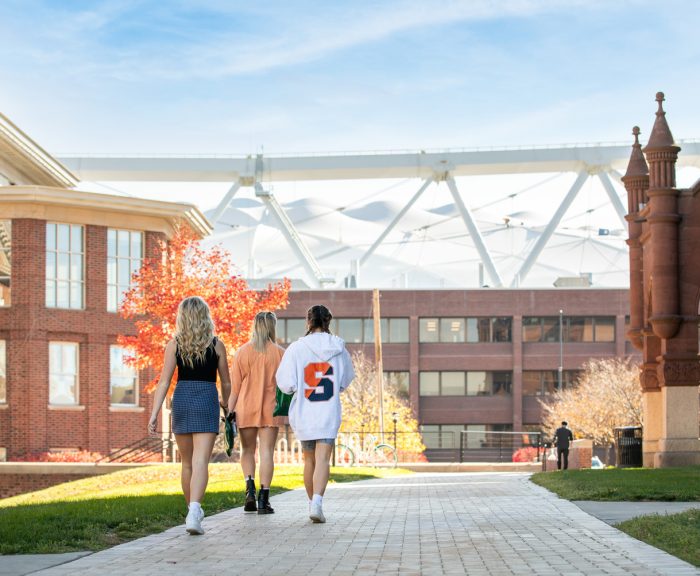 The Purpose of the Office of Financial Literacy Programs
Our office was developed with the Syracuse University motto at the heart of our mission, "Suos Cultores Scientia Coronat." Knowledge crowns those who seek her. Our students are resilient, driven, and in a constant search for mastery. A sound understanding of financial matters domestically and globally is one of the many pillars that Syracuse University stands on. All programs, partnerships, and community action are designed to introduce students to basic financial concepts, and tools and provide a safe and rudimentary space to learn, ask questions and search for guidance.
Students are given the opportunity to work with, collaborate and speak to peers and professionals who have navigated through situations, not unlike their own. The Office of Financial Literacy Programs works to provide them with varying outlets that work best for their learning and communication styles, so that they might feel comfortable, confident, and welcomed. We have introduced the six principles of trauma-informed care into our content, counseling, and collaborative sessions. As the vastness and diversity of our student body continues to grow, we will remain true to our purpose and commitment to continual learning and seek knowledge that best serves our greater community, always.
Commitment to Diversity, Equity, and Inclusion
 The Office of Financial Literacy Programs is dedicated to executing the Syracuse University commitment to Diversity, Equity, and Inclusion in all facets of our office, programming, and counseling.
We understand that an introductory financial education cannot and does not apply to all in the same manner. Each program developed by the office is reviewed for context that may include the intersection of student identities, abilities, access, and connection. We offer pre-workshop and presentation meetings to organizers to express the needs of their group and how our content might be adjusted to reflect their lived experiences and realities.
We have worked with and will continue to partner with Syracuse University's Four Cultural Centers, Center of International Services, Disability Cultural Center, LGBTQ Resource Center, and the Office of Multi-Cultural Affairs to bring our knowledge base, services, and free resources to the students they serve and provide for. It is mission critical to our office that we meet our students where they are, where they feel most safe, have formed relationships they trust, and will engage at their highest levels.
Core Values
1. Support
First and foremost, we are a support network. This may be the first line of defense or a last point of action, but our team exists to grow a student's support network, options for help, guidance, and a judgment-free place to discuss their choices and actions.
2. Providing Trauma-Informed Care
The Principles for Trauma Informed Care as detailed by the CDC can be found in all facets of our work, including but not limited to our one-on-one peer counseling sessions, concentrated workshops and presentations, and community partnerships. It is important that we acknowledge that everyone has a different and complex relationship with personal finances and money management, that we are thoughtful and considerate when we are educating everyone, and that we have taken the time to understand an individual situation before we provide our own outlook.
3. Collaboration
Within our office, we define the difference between good leadership and great leadership by the ability to work collaboratively. Inclusion by default must be exercised through collaboration. We work hard to make sure the voices of each of our team members, partners, and participating students are heard, carefully considered, and integrated into our content and services. This is exemplified in our content co-creation structure and community involvement.
4. Continual Learning
It is a mandate within our office that all team members make time to attend and participate in professional development workshops and other opportunities. Our jobs and responsibilities to our students and the greater community at large are multi-faceted and we must stay up to date on our material, engagement techniques, and leadership choices.
5. Community Connection
We acknowledge with respect the Onondaga Nation, firekeepers of the Haudenosaunee, the indigenous peoples on whose ancestral lands Syracuse University now stands. We also acknowledge our place within the Syracuse, N.Y. greater area, the privilege of being here, and our broad reach. Our students greatly benefit from the diversity of the city, its community resources, and other community organizing efforts that take place here. We all strive to be active partners in Syracuse's economic success and the support it can and does provide to the SU student body.
Syracuse University Shared Competencies